ARRIVAL/DROP-OFF INSTRUCTIONS
As part of our on-going effort to create and maintain a safe environment for our students, families, and volunteers, there will be only ONE entrance for Rel.Ed. classes, through the cafeteria doors (yellow circle on the map) at the end of the Sevilla Avenue Parking Lot. The cafeteria will open 15 minutes prior to the start of each class session. Please plan on arriving early!
Note: Drop-off does not require a single car line. You are welcome to park around the property and walk your children to the drop-off area. Car line will only be required for pick-up, as we must check out students individually as we dismiss them to their parents.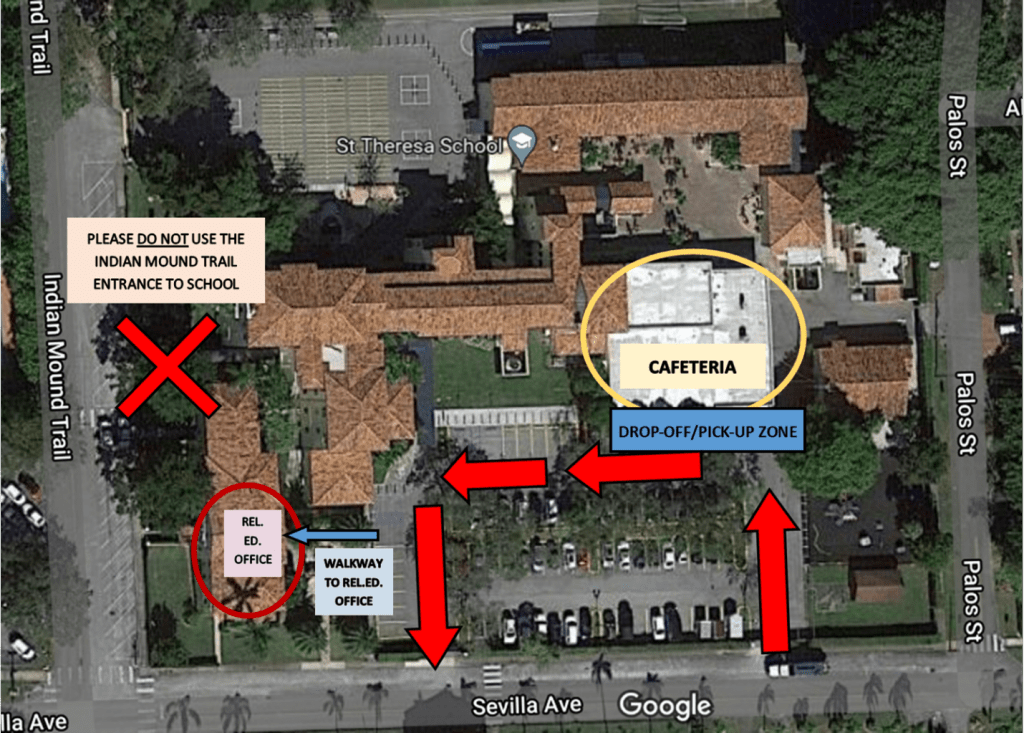 Due to existing COVID-related safety protocols, parents are NOT PERMITTED to enter campus. Students will all be dropped off at the cafeteria doors and will briefly gather with their catechist and classmates in the cafeteria before proceeding to their classrooms.
Students MUST be wearing a mask AT ALL TIMES from the moment they leave the car at drop-off until they are picked up at the end of the class session. Catechists are invited to give students a brief "mask break" outdoors, weather permitting, in the middle of each weekly class session.
CAFETERIA ASSEMBLY
Classes will be spread out throughout the entire school cafeteria from the opening of the doors 15 minutes prior to the start of each session until 5 minutes after the bell rings at the marked start time of classes. Once the bell rings, we will pray our weekly opening prayer together and catechists will then take their gathered students up to their classrooms for the remainder of the class session. This brief assembly will last no more than 5 minutes. Please plan on arriving PRIOR to the listed class time (Wed-4pm, Wed-6:30pm, Sat-10am) so as to avoid any tardiness or the disruption of classroom instruction.
TARDY ARRIVALS
After assembly concludes and all classes proceed to their rooms, the cafeteria door will be closed and locked. Late arriving students will have to pick up a tardy slip at the Religious Ed Office (RED CIRCLE IN MAP) in order to be admitted to the classrooms. Students arriving more than 20 minutes after the start of each class session will be marked ABSENT for the week and will not be permitted to enter.
PICKUP/DISMISSAL INSTRUCTIONS
Until further notice, dismissal and pickup will take place via car line at the same cafeteria doors used for drop-off. When the end-of-class bell rings, all students will be brought down to the cafeteria (and outside to the parking lot, weather- permitting) to be dismissed. Please see the map for the flow of traffic that will be utilized for our pick-up line.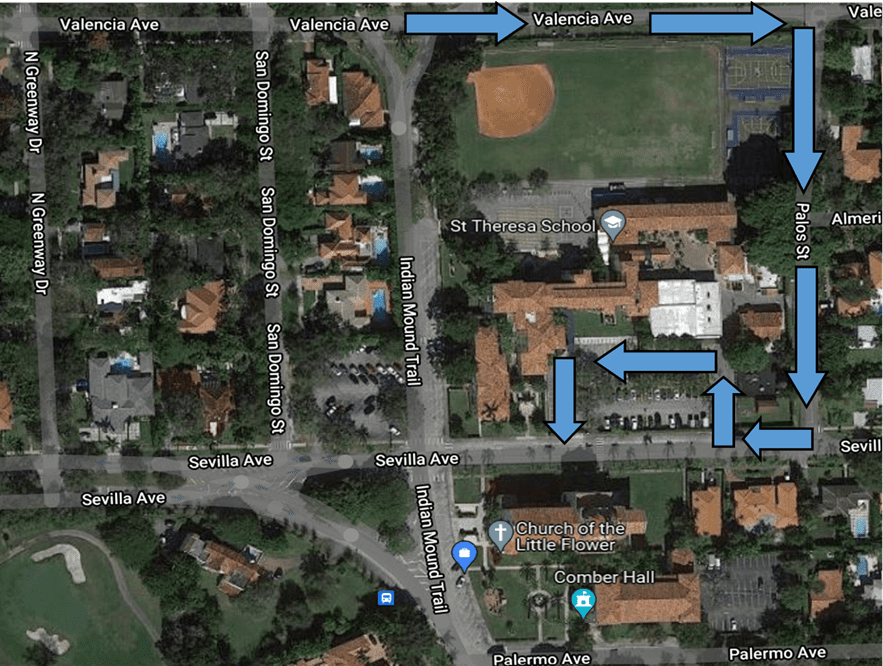 Anyone arriving to pick up a student should follow the route east-bound on VALENCIA AVENUE, south-bound on PALOS STREET, west-bound onto SEVILLA AVENUE, entering into the Sevilla Ave Parking Lot for pick up, and exiting back onto Sevilla Avenue to depart.
A separate email will be sent to you which includes a customized pick-up placard to be displayed in the windshield of the car of your child's designated pick-up person(s). You are free to make as many copies of this placard as needed but please do not share this placard with anyone other than those individuals you authorize to pick up your child.
Placards for your children, and any other children you may be picking up as part of a carpool, should be clearly displayed on the passenger side of your dashboard. Cars may be asked to move up or circle around the parking lot if a class is delayed in coming downstairs.
Upon entering the pick-up area, and using the code on your customized placard, your child(ren), and anyone you are taking home via carpool, will be brought out to you. Please remain in your car at all times and stay in the car line. Please do not walk up to the pickup area.
COVID SAFETY PROTOCOLS
Archdiocese of Miami COVID Protocols (Also available in Spanish) are reviewed on a weekly basis and may change at any time. All major updates to the policy will be communicated to families immediately. As we prepare to begin the Catechetical Year next week, please note the following highlights of the policy currently in effect:
As already noted, masks are required of all students, regardless of vaccination status, at all times while on campus. Students who refuse to wear a mask will not be permitted entry onto campus or into the classrooms.
Catechists/Teachers and all volunteers will likewise be required to wear masks at all times.
Classrooms being used by the COTLF Religious Ed program will be cleaned prior to the start of each session. Additionally, plexiglass partitions have been installed on all student desks for an extra layer of protection.
With only few exceptions, all class sizes have been limited this year to allow for proper distancing of students inside each classroom.
Any student who is feeling ill should STAY HOME and communicate with either the catechist or the Rel.Ed. Office to notify us of the expected absence. Information about the missed class/content will be provided for the student/family to work on at home over the course of that week and prior to the next class.
If a student tests positive for COVID, has a family member in the same household who tests positive for COVID, or has been exposed to someone else who tests positive for COVID, the family must contact the Director of Religious Education immediately and remain home until further instruction is provided.